Everyday Minerals – again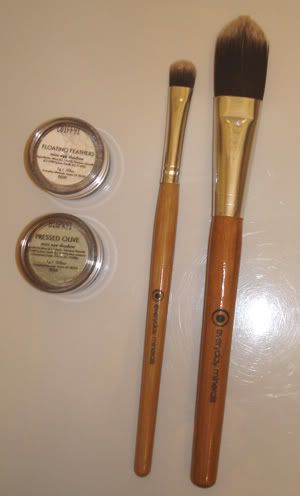 I know I've talked about makeup a bit too much lately, I'm not going to turn this in to a beauty blog. But these are all the news I have to tell! I'm working and working so I don't really have much time for anything else.
Last week I received two brushes and two eye shadows from EverydayMinerals. One foundation brush and one eye shadow brush. The eye shadows are Floating Feathers and Pressed Olive.
Once again I have to give EM the highest score. I've never experienced so soft brushes! I've already tossed away my cheap H&M brushes! It's a huge difference!
And, Floating Feathers is my newest favorite among my eye shadows! Not that I have many. I've got these two, a two colored one from Isadora, a couple from H&M and a small palette from Viva La Diva. And I also only buy samples when it comes to mineral products since they last very long for me (it's cheaper too!).
Gucci RTW Fall 2009
I just saw the images from Gucci's latest collection on a fashion blog and went "wow!". I just love the style! It's black and rock! Check out the images from Gucci RTW Fall 2009 at WWD.com and tell me what you think!
Enough about that. I should get down to the basement to see if there's anyone in the wash house, if there's not I might just slip in and wash some clothes. I don't think you are allowed to wash after 8 in the evening but I really have to!
Related Posts