I totally forgot to mention that I made another order at Everyday Minerals about a month ago!
A Free Sample Kit and a Flat Top Brush

I ordered another free kit with the foundation colors that I liked but in another formula; Cool Fair (semi-matte), Buff Ivory (semi-matte) and Cool Fair (intensive).
As for the blusher I chose Light Pink (image on the right) and as for the concealer I once again chose the Multi-Tasking Concealer (it totally rocks!).
I also ordered a new brush that has become my favorite! It's the Flat Top Brush! It's incredibly soft! But the handle was much smaller than I expected.
I still however prefer to use a rounded brush for the blushers, but it's great to use with foundations!
The Sand Castle Kit
I also couldn't resist getting the Sand Castle Kit! It's a sample kit of Driftwood, Funnel Cake, Boardwalk, and Freckles eye shadows and it comes with a bamboo handled eye shadow brush! And wow, I'm totally in love with those colors! They all fits me perfectly! I can really recommend this kit!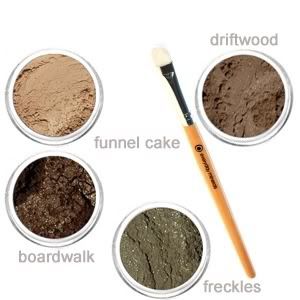 Freebies!
I also got a surprise with my order! Three free eye shadow samples! It was Cotton Tale (grey), Greeting Card (purple) and Hoppity Hop Hop (green) (I love that name!). I guess they are from the previous summer (last year) collection. I haven't had the chance to try them yet though.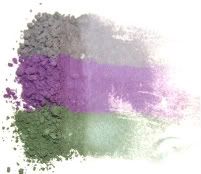 A lot of stuff, I know :P
Related Posts
7 Responses to "Latest Everyday Minerals Haul!"