A couple of weeks ago I received samples of Lucy Minerals foundation (I ordered the original formula – If you have oily skin they have a Oil Control Foundation and if you are extremely allergic they have a Lucy Light Foundation – without any additives.) in the shades Fair, Light and Snow White (it rhymes!). I've seen so many good reviews online about them that I just had to order some samples to try them out myself! They came in tiny zip-lock baggies but there were quite a lot in them! Will last long for me!
The sample sizes are $1.50 and the full-sizes are $14 with free shipping ($6.00 Minimum Order) worldwide!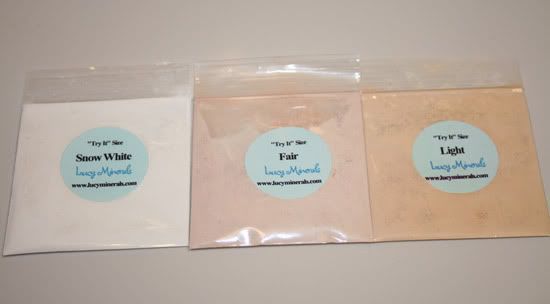 What the website says

Anti-aging, natural sun protection (Titanium Dioxide and Zinc Oxide), NO Parabens or Micronized Minerals, Water-resistant – Holds up well in humidity, Zinc Oxide has anti-inflammatory and anti-microbial properties, Ideal for sensitive, acne-prone, or problem skin (especially rosacea), Contains the ingredient Allantoin (an anti-irritant) to soothe and protect the skin, Great coverage – reduces redness in skin, Free from bismuth oxychloride, talc, fragrance or preservatives…
Since I have problem with my skin; extremely dry areas and redness I was so excited to try it out! And the first time I used it I was like; WOW! Extremely good first impression! And second, and third! I love it! It covers my redness really good and it stays on longer than I thought as well. I even got a bit sweaty one day and I just had to put on some powder on my forehead to cover the shininess.
As you can see below, I have put on the "Light" foundation on the left side (just a little to make it look as natural as possible), the right side is only moisturized (look at that horrible redness, and this is on a good day!).To me it was a huge change!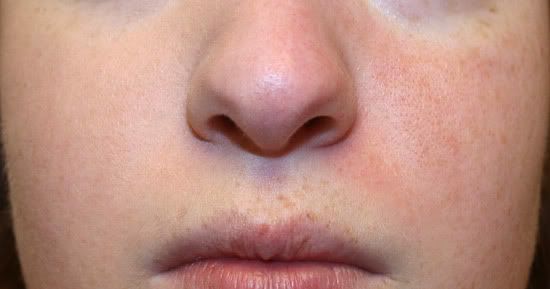 After the photo was taken I put Everyday Minerals foundation "Fair" (Intensive formula) that I normally wear on the other side just to compare. The EM foundation didn't cover the redness as good as Lucy Minerals, I also felt that EM made my skin more dry and that I had to use more to get the coverage I wanted. I have also had the feeling that EM wears of more easily during the day.
The shades
At first I thought "Fair" was too light for me but now I think that it's almost the perfect match. If I compare with Everyday Minerals, I can use their "Fair" and "Ivory". Even if it's hard to tell from the picture, EM's "Fair" is a tiny bit darker than LM's "Fair". I haven't even tried "Light" yet, it seems too dark and too yellow for me.
Be ware of "Snow White"! It's really white! :P I tried a little bit on to see if it made my skintone brighter, and hell yes. I looked like a goth afterwards! :D So Snow White is a foundation for all you goths out there! However, it's perfect to brighten the other shades up a bit, or use it as a highlighter.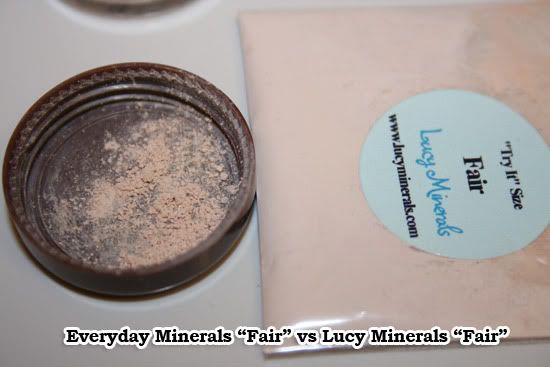 Buy full-size?
If it doesn't happen anything unexpected with the rest of the sample, I will absolutely buy a full-size!
Have you tried Lucy Minerals? What are your thoughts?
Related Posts
10 Responses to "Lucy Minerals Foundation"