Thursday, August 19th, 2010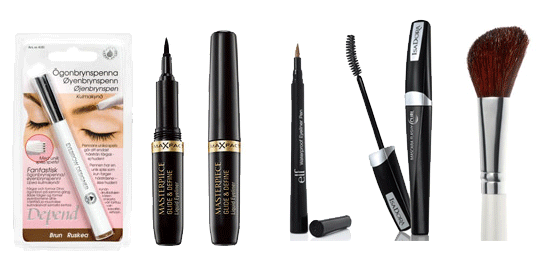 I'm bored and I just cleaned out my makeup stash a bit of bad products. I do realize that I could have returned some of these and get a replacement, but I was too lazy at the time. A few of them I couldn't return since I bought them in a store and they don't accept refunds or replacements once they have been opened.
Depend Eyebrow Pen – Not sure if I got a "Friday car" but this was a disaster. It was dry and even though I followed the instructions, I didn't get it to work.
E.l.f. Waterproof Eyeliner Pen – Dry as the desert!
Isadora Flashy Curl Mascara – Took a few uses, then it became like a gum, then it became dry.
Max Factor Masterpiece Glide and Define – First of all, the product I got was grey, the marking for black was very similar. The consistency was watery. Glide – yes, define – no.
E.l.f.  Blushing Bronzing and Blending Brush – Do not buy this one! A total disappointment! It's not as nice and smooth as it looks on the product image! The bristles are stiff and scratchy. I have however found another use for it – I clean my keyboard with it! It's excellent for that purpose!
Some of these probably worked wonders on others, but I would absolutely advise that you don't buy the E.l.f.  Blushing Bronzing and Blending Brush, it totally sucked. Only buy it if you want to clean your keyboard with it! :P
Anyone else that have experienced/discovered bad/disappointing beauty products lately?
Category Beauty | Tags: Tags: Beauty, brushes, depend, elf, isadora, makeup, max factor,
Social Networks: Facebook, Twitter, Google Bookmarks, del.icio.us, StumbleUpon, Digg, Reddit, Posterous.