Tuesday, March 2nd, 2010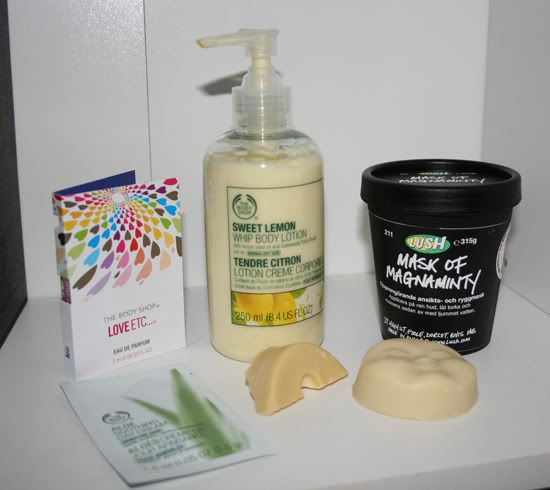 As you can see on the image, that's were my money went. I just had to go to The Body Shop to smell on their new Sweet Lemon products. So of course, the Sweet Lemon Whip Body Lotion had to be bought! While I was there I decided to join their club, so I got a discount, a sample of the Aloe Soothing Day Cream (it doesn't smell good at all, it's like a combination of exhaust gas and car oil!), a sample of the LOVE ETC fragrance, a free makeup consulting and a "buy 3 pay for 2″ deal. Not sure if it was the smartest thing to do since I hardly buy anything at TBS. Oh well.
I also got a package from Lush in the mail. I only have a tiny piece left of my all time favorite face cleanser Baby Face, so I ordered a new one. I also got Mask of Magnaminty cleansing mask, it smells lovely! (I've already tried it and I really like it!) At last I got a free sample of the Therapy massage bar. I've read that it's really great for very dry skin, I'm looking forward to try it out!
Category Beauty | Tags: Tags: baby face, lush, mask of magnaminty, sweet lemon, the body shop, therapy,
Social Networks: Facebook, Twitter, Google Bookmarks, del.icio.us, StumbleUpon, Digg, Reddit, Posterous.