Sunday, April 25th, 2010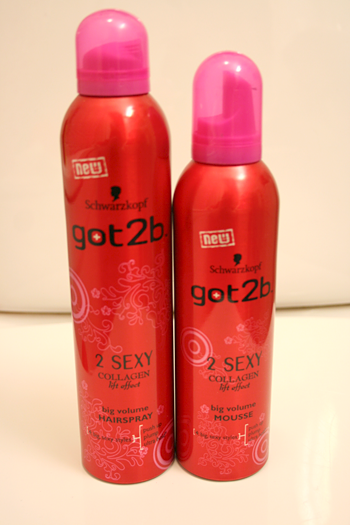 Som ni säkert läst så vann jag en tävling hos Beleza och fick därför Schwarzkopf got2b 2 Sexy big volume hårspray och mousse med collagen lift effect.
Nu har jag hunnit testa dem ett tag och kan nu göra ett ordentligt utlåtande ;).

Moussen: Är helt okej. Har använt den i vått hår innan föning och den luktar inte för starkt (luktar lite hallon på ett kemiskt sätt (?)). Lukten tycker jag försvinner efter föningen. Stadgan tycker jag är jättebra jämfört med Wella's mousse.
Sprayen: Efter föning med moussen så har jag använt sprayen. Den luktar väldans mycket i början men det antar jag att alla gör, man bör ha god ventilation! Känner mig däremot lite kluven till "hallondoften" även om lukten inte stannar kvar hela dagen. Stadgan är fantastisk! Håll upp håret, spraya lite grann och håret stannar i samma vinkel som du höll det i!
Dock har jag märkt att mitt hår blir extremt sprött och frasigt efter sprayningen! Jag blev nästan lite rädd! Det kändes verkligen som att håret skulle trilla av om jag rörde vid det! Det var samma visa varje gång tills jag slutade använda båda samtidigt!
På mig fungerar de här bäst var för sig! Min hårbotten kliar lite efter att jag haft sprayen i en hel dag, men jag har ännu inte hittat någon som inte kliar!
Produkterna tillsammans: 1/5
Var för sig:
Schwarzkopf got2b 2 Sexy Big Volume Hairspray: 3/5
Schwarzkopf got2b 2 Sexy Big Volume Mousse: 4/5
---
English:
I posted before that I won a contest at Beleza where I got Schwarzkopf got2b 2 Sexy big volume hairspray and mousse with collagen lift effect.
Now I've tried them out for a while and here is my little review:
Mousse: Works great. I've used it in wet hair before blow-drying it and the smell isn't too strong (smells a little bit like raspberries in a weird chemical way). Most of the smell disappears after the blow-drying. It's way better/stronger than Wella's mousse.
Spray: After blow-drying with the mousse, I used the spray. It smells quite a lot in the beginning (don't they all?) and I'm not sure if I like the "raspberry scent". But it does the job great! Hold up the hair, spray it and it will stray in the hair will stay in the same position!
However, after using it, I've noticed that my hair got extremely fragile and crispy! I got a little scared that my hair would fall of if I touched it. It happened every time until I stopped using the mousse and the spray together!
So, on me these products works best separately! My scalp do itch after wearing the spray for a day, but I have not yet found a spray that doesn't give me itch yet!
The products together: 1/5
Separately:
Schwarzkopf got2b 2 Sexy Big Volume Hairspray: 3/5
Schwarzkopf got2b 2 Sexy Big Volume Mousse: 4/5
Category Beauty | Tags: Tags: Beauty, got2b, mousse, review, schwarzcopf, spray,
Social Networks: Facebook, Twitter, Google Bookmarks, del.icio.us, StumbleUpon, Digg, Reddit, Posterous.