Tuesday, September 8th, 2009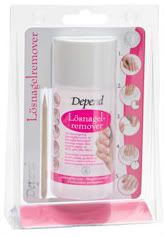 I couldn't stand having the fake nails on while I was at work, long nails and a keyboard isn't something I can get used to. So after 3 days I took them off, by hand. It kind of hurt a bit and the nails looked like crap afterwards but I used a nail file to remove the glue.
When the weekend arrived I glued on the same nails (I was going to Maia's birthday-dinner), when I got back home I used the Detachable nail remover, also from Depend. It was a horrible experience. Your are supposed yo pour the liquid in a bowl and place the nails in it. The smell was so strong you could easily pass out. And while the nails slowly became soft and vanished (it was like acid!) the smell became even more awful. Even though I did exactly as the instructions say, the glue and the nail goo didn't come of that easily. With the other hand I just ripped them off, that was much easier and a lot healthier too I believe.
Could they stay on for 10 days? I believe they would! I never felt that any of them were about to fall off or anything. I can recommend them!
---
Swedish: Jag stod inte ut med att ha långa lösnaglar på jobbet när man sitter och skriver på ett tangentbord hela tiden. Jag kan helt enkelt inte vänja mig vid det. Så efter tre dagar tog jag av dem genom att "slita" av dem, det gjorde en aning ont haha. Naglarna såg väl inte så fina ut efter det men jag filade av limmet med en nagelfil.
När helgen kom limmade jag på dem igen (jag skulle till Maias födelsedags-middag) och när jag kom hem använde jag Lösnagelremovern från Depend. En hemsk upplevelse. Det luktade så starkt att man lätt kunde tuppa av. Det är meningen att man ska hälla upp vätskan i en skål och sedan sätta ner naglarna i den så de fräts bort. När det började fräta blev stanken ännu värre. Det var svårt att få bort gojjan av nedfrätta naglar och lim även om jag gjorde allt enligt instruktionerna. Med den andra handen drog jag bara loss naglarna och filade bort limmet, även om det gjorde en aning ont så tror jag det är ett mycket hälsosammare sätt.
Håller de i 10 dagar? Ja det tror jag absolut! De satt väldigt hårt på mig och jag märkte aldrig att de var på väg att trilla av eller så. Kan verkligen rekommendera dem!
Category Beauty | Tags: Tags: depend, fake nails, nailpolish, nails,
Social Networks: Facebook, Twitter, Google Bookmarks, del.icio.us, StumbleUpon, Digg, Reddit, Posterous.